News
Hot Docs Wraps 23rd Edition With Record-Breaking Audiences of 211,000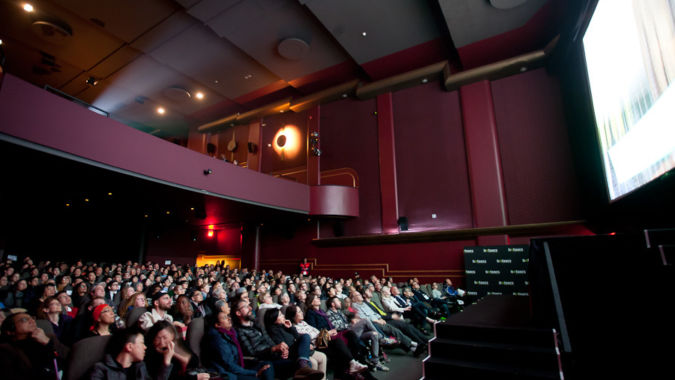 Hot Docs has wrapped its 23rd edition with record-breaking audience numbers reaching an estimated 211,000. The 11-day event featured 462 public screenings of 232 films on 15 screens across Toronto, an internationally renowned conference and market for documentary professionals, and Docs For Schools, a phenomenally popular education program for youth. The Festival welcomed more than 310 guest filmmakers and subjects from across Canada and around the world to present their films and take part in special post-screening Q&A sessions with audiences. Official film selections were chosen from a total of 2,735 films submitted to the Festival.
At the Festival, Hot Docs presented the fifth edition of the Scotiabank Big Ideas series, featuring screenings and live onstage discussions with prominent documentary subjects. This year also marked the expansion of the interdisciplinary DocX program, celebrating documentary work that lives outside of the traditional format, and included screenings, performances, interactive installations, exhibitions, virtual reality and 360° video.
A full week of industry programming was attended by 2678 delegates from around the world. Hot Docs mounted a roster of seven workshops, 13 conference sessions, close to 40 networking events and parties, three Kickstart panels for emerging filmmakers, 11 micro-meetings, 16 Close Up With… sessions with broadcasters, the Doc Summit, and the Hot Docs Awards Presentation. Hot Docs also hosted a record 14 official delegations from Australia, Chile, Colombia, Germany, Georgia, Israel, Italy, Japan, Nigeria, the Nordic Region, Northern Ireland, Scotland, South Africa and the USA.
The Hot Docs Forum market event, Hot Docs Deal Maker curated pitch event, and Distribution Rendezvous meeting service saw brisk pitching, networking and deal-making. In total, 20 projects—with 12 female directors and 27 female producers attached—representing 17 countries were presented to a panel of over 300 key commissioning editors and funders at the Hot Docs Forum, and a total of 70 projects were pitched at approximately 625 meetings during Hot Docs Deal Maker.
The Doc For Schools program, offering free in-theatre and in-school screenings, reached a record number of 92,500 students. Selected by student ballot from among nine Docs For Schools selections that screened at the Bloor Hot Docs Cinema during the Festival, the winner of the Docs for Schools Students' Choice Award is Audrie & Daisy (D: Jon Shenk, Bonni Cohen; USA).