2003 Focus on Shelley Saywell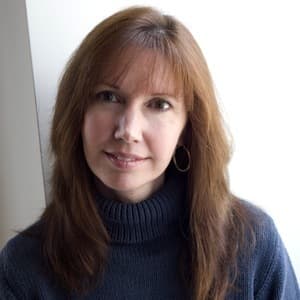 "Each film has led me to the next and all have been about situations of conflict or human rights abuses that struck a deep chord, that made me angry or passionate." - Shelley Saywell
Over the last several months, the mass media's relentless and migraine-inducing pounding of the drums of war dominated all our lives. Anger and passions over a looming war with Iraq ran higher and higher. Larger, more frequent, and increasingly vociferous anti-war demonstrations occurred around the world while warmongers made more and more crude self-justifications and threats.
On march 19th, bombs began falling on Baghdad. As this war unfolds, the workd of this year's Focus On subject, Shelley Saywell, take on even more urgency and stand out as a uniquely principled, committed, coherent and honestly informative project in support of human rights, and against the lunacy of war in all its incarnations.
Saywell has made 11 independent documentaries over the last 15 years. Each and every one of them has sought to illuminate one form of war – the war of men against women, the war of the rich against the poor, the war of professional soldiers against civilian children – and to counter the terrors of war with possible paths to peace taken by the very real human victims and survivors.
A native of British Columbia, Saywell began her career in documentaries researching a series about the Vietnam War for veteran Canadian journalist and documentarian Michael Maclear. In 1985, her commitment to questioning war and peace took concrete form when she wrote Women in War, a collection of first-hand accounts of women's experiences on the front lines of war.
In 1993, Saywell merged her focus on war with her commitment to women's rights, directing the film No Man's Land, an in-depth examination of women war reporters' challenges to male domination of the news. She solidified and extended her creative and thematic trajectory with Fire and Water (1995), a study of post-Gulf War Iraq and the continuing war inside that ravaged country, and Rape: A Crime of War (1996), an exhaustive examination of survivors of mass rape in Bosnia and the first prosecution of rape as a war crime by the International War Crimes Tribunal in The Hague. Saywell's commitment to these fundamental issues has continued to grow in all of her subsequent films.
While she skillfully takes on large scale conflicts and global power struggles, Saywell has consistently maintained a focus on the human scale, on resistance and on hope. The emotional and informative power of all her documentaries rests on the intimate portraits of the people most directly affects. Works like Out of the Fire (2001), a portrait of a young Jewish girl who escaped the Nazis to join the Russian partisans, and Legacy of Terror: The Bombing of Air India (1999), a portrait of the families who lost loved ones in the terrorist attack, demonstrate Saywell's enormous skill in capturing human complexity in its most intimate, vulnerable and expressive moments.
Saywell continues to redefine the front lines of war, with works like Street Nurse (2002), which brings war to our doorstep in Toronto as activists battle homelessness, and A Child's Century of War (2002), which examines the shift of war and peace has been recognized with many awards, including Emmys and Geminis. In 1997, she was awarded a UNESCO Gandhi medal for promoting the culture of peace.
We are very pleased to present this election of timely, illuminating and engaging works by a valiant and taented documentarian and crusader for peace.
David McIntosh
Focus on Shelley Saywell Programmer