2008 Focus On Jennifer Baichwal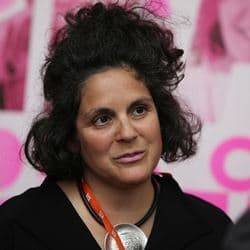 Mercurial Filmmakers: Jennifer Baichwal and Nick de Pencier
Mercury, the lightening fast divine messenger of Roman mythology, is the appropriate inspiration for Jennifer Baichwal and Nick de Pencier's film company. In less than 15 years, the duo has produced five award-winning long-form documentaries, fiver performance-art films, 40 shorts on Ontario artists and two children. All save the kids are Mercury Films productions and one could argue that the company deserves a small credit for the children as well.
That's a terrific output, particularly when one considers that the documentaries directed, co-produced and written by Baichwal and co-produced and generally shot by de Pencier have won a trunk full of prizes. The two won Geminis in completely different categories: arts documentary (The True Meaning of Pictures) and writing and editing a doc (The Hollier It Gets). Hot Docs gave The Hollier It Gets two awards in the Canadian independent Film and Cultural Film slots while Let It Come Down won for Best Biography.
And that doesn't include the list of trophies garnered for the latest film, Manufactured Landscapes. An insightful look into the art and politics of photographer Ed Burtynsky, it won the Genie as Best Feature Documentary, Canadian Doc prizes at the Calgary and Atlantic film festivals and the Toronto International Film Festival (TIFF) Toronto-City Award for Best Canadian Feature. TIFF's jury hailed the films as "a profoundly evocative dialogue between artists of the highest calibre."
The commendation is accurate: Baichwal and de Pencier are clearly artists, approaching film with the seriousness of purpose and attention to craft of a photographer like Burtynsky. It's no surprise that three of Baichwal's films — Let It Come Down, The True Meaning of Pictures and Manufactured Landscapes — are responses to the lives and work of artists. Whether it's examining the prose and music of famed American exile Paul Bowles, the problematic but brilliant photos of Shelby Lee Adams or the gorgeous stills of Burtynsky, Baichwal creates films that are sumptuous aesthetically without losing a distinct critical apparatus.
Baichwal has noted of her work, "Art as an area for examining questions of the human condition is a very rich place because your response is not just intellectual. It's also emotional and visceral. I think that good documentaries do that for you. And that's the reward Nick and I get. Our work is fulfilling. What could be better than that?"
— Marc Glassman