2009 Focus On Ron Mann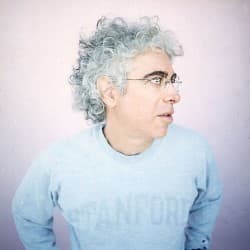 Ron Mann, chronicler of alternative culture, champion of independent cinema, founder of FILMSWELIKE – where would Canadian documentary be without him?
A Toronto native, Mann began making Super 8 films as a teen in the early 1970s. Overflowing with the creative energy that still propels him today, he produced countless short films, Flak, made when Mann was just 16, is an improvised portrayal of post-sixties political listlessness. It is a forgotten gem screening for the first time in 30 years as part of this retrospective.
Mann soon caught the attention of radical documentary master Emile de Antonio, who served as mentor and provided critical feedback, technical advice, professional contacts, and a couch in New York City to sleep on whenever it was needed. Imagine the Sound, a tribute to four incomparable jazz players released in 1981, made Mann a critical success at the age of 22. Poetry in Motion followed a year later. By 1989, Mann had his first retrospective – at the festival now known as Sundance – following the release of Listen to the City.
Through his films, Mann is a time traveller, simultaneously looking backwards to discover a forgotten past and gazing forward into possible futures. Whether focusing on music (Imagine the Sound), dance (Twist), words written and spoken (Echoes Without Saying and Poetry in Motion), visual art (Comic Book Confidential and Tales of the Rat Fink), food (Go Further and Know Your Mushrooms), or recreational drugs (Grass), his films bring subterranean social histories and cultures to light. What Mann achieves is history for the present, reminding us of the vital ideas, experiments, and artists that have been overlooked and ignored by the mainstream.
Many documentaries make films people should watch. But Mann, with his unique blend of politics and pop culture, makes films people want to watch. While his uncompromising content stimulates the mind, Mann's quick-witted editing, innovative use of archival footage, pioneering approach to animation, and pitch perfect scoring and sound design delight the senses.
Mann once shared a piece of advice he received long ago from de Antonio: Make films about things you really love or really hate. Mann chose the first option. His enthusiasm for the underground, for the uninhibited creator, for all manner of wild visionaries and wobbly saints, is infectious. I am certain, given his prolific nature, that this retrospective simply marks another stop along Mann's adventurous life path. I look forward to seeing where he invites us to go next.
— Astra Taylor
Focus On Ron Mann Programmer