2011 Focus On Alan Zweig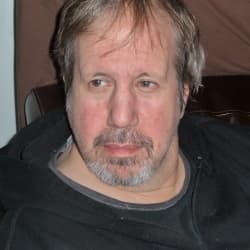 Alan Zweig didn't set out to become a documentary filmmaker – he stumbled into it. He was writing and directing narrative films before making his first feature documentary, Vinyl (2000), a passion project he worked on for a number of years without any expectations whatsoever. He assumed this film lark about obsessive record collecting would be his swan song: "I didn't think anyone would see it, so I just did what I wanted to do." What was meant to be his last film transformed him, in terms of audience and press attention, into a successful documentary filmmaker. Having found an audience for the first time, Zweig decided that maybe he'd hit upon something, a sort of template by which to investigate certain preoccupations and ideas that might appeal to people other than just himself. He decided to try it again.
The five feature documentaries included in this retrospective of Zweig's work — Vinyl (2000); I, Curmudgeon (2004); Vinyl: The Alternative Take (2006); Lovable (2007); and A Hard Name (2009) – are all a result of that initial impulse to interview people he thought were interesting and give them a voice. It's an impulse he's been following ever since.
Zweig's short films — Trip Sheet (1976), The Boys (1977) and Stealing Images (1989) – provide rare insight into his early inspirations, influences and themes. They run the gamut from documentary to mock doc to fiction.
Trip Sheet was Zweig's first film, an impressionistic hybrid doc made in his first year at Sheridan College. Shot on colour reversal stock, the film follows cab drivers on their daily beat, a profession that Zweig himself pursued throughout the 1980s. Unseen for more than 30 years, The Boys, an improvised film shot in semi-vérité style, stars four strangers as best friends. The award-winning fiction film Stealing Images, screening for the first time in 20 years, investigates the notion of the unreliable narrator, the protagonist as poseur. Zweig used a composite of film world acquaintances to shape his lead character, a film director who seems to have everything going for him, but in reality has nothing going on at all. Stealing Images sits where autobiography and parody meet, and is perhaps less a reflection and more a projection of Zweig's struggle with his own perceived failure. This collection of shorts bridges the gap between Zweig's work in fiction films and introduces themes, questions and techniques that resurface in his later documentaries.
In the autobiographical trilogy Vinyl; I, Curmudgeon; and Lovable, Zweig employs a recurring technique of turning the camera on himself using mirrors. He never pretends not to be there, placing himself inside the narrative along with the rest of his subjects. His use of first-person video diary is a courageous method od self-analysis, introspection and presence that speaks to the audience as if there were no camera in the room. This generous sharing of personal experiences, neuroses, fantasies and opinions acts as an empathetic way of drawing out the same in others. Zweig has honed a conversational interview style and easy repartee with his subjects that result in some of the most inspiring vulnerability and honesty you will ever experience while watching film.
Zweig is attracted to unique and intriguing characters, and focuses on outsiders, feminists, losers, loudmouths, nerds and nonconformists. His documentaries give enormous insight into personal connections and disconnections, and how we see and are seen though language and labels. What he asks from his subjects and from his audience is a willingness to listen, questions conformity, challenge preconceptions and mistrust societal expectations. He never dumbs down his subjects, and he pursues his obsessions and subconscious desires with the belief that others may share them. And we do.
We are extremely excited to share this diverse selection of short and feature films as Hot Docs 2011. We invite you to experience for yourself the incredibly honest and courageous films of Alan Zweig, a documentary filmmaker of enormous talent and humour who, lucky for us, never gave up on his career as a filmmaker.
— Angie Driscoll
Focus On Alan Zwieg Programmer