2013 Focus On Peter Mettler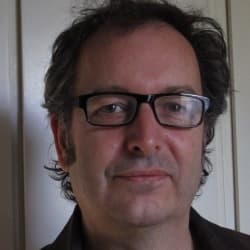 Several years ago, I was making plans to see one of Peter's films with a slightly older, and maybe slightly wiser, friend. Beforehand I asked her "Where do I meet you?" and we decided to meet in front of the theatre. After the film she suggested a better answer to that question might be "In the images." I'm not sure I got it at the time, but it's stuck with me.
It's fitting that in the same year Hot Docs has chosen to dedicate our Focus On retrospective to the work of Peter Mettler, we've also chosen to focus on "Rule Breakers and Innovators" for our theme program and conference events. Known for his progressive work in varied image and sound mediums, Peter defies the idea that there are limits to expression or creativity.
A prolific creator and collaborator, Peter was part of a core group of filmmakers known as the Toronto New Wave in the 1980s. The list of directors he has worked with as a cinematographer is an impressive list of talent: Atom Egoyan (Next of Kin, 1984; Family Viewing, 1987), Patricia Rozema (Passion: A Letter in 16mm, 1985), Bruce McDonald (Knock! Knock!, 1985), Ron Mann (Listen to the City, 1984) and Jeremy Podeswa (David Roche Talks to You about Love, 1983). His solo work includes six feature films, both fiction and non-fiction as well as a number of shorter pieces, in addition to his non-film specific art. We're able to show a small selection of his overall catalogue here, but one that defines an evolution of style, specifically through his documentary work.
Beginning chronologically, Eastern Avenue (1985) is a film that evolved in response to the more structured work in his award-winning first feature film Scissere (1982) where he attempted "as often as spontaneously possible to respond and react to his surroundings without occupying himself in advance with anticipated images." Mettler had not planned to release Eastern Avenue theatrically and is a "true diary" in that regard, making for a particularly significant entry point into his work. Paired with his most recent film in this retrospective, Petropolis: Aerial Perspectives on the Alberta Tar Sands, both films become a larger study of the themes and styles that would evolve throughout his career.
Also included in the selection are perhaps his most popular films, Picture of Light (1994) and Gambling, Gods and LSD (2004). Both multiple award-winning films, it's a particularly profound experience to watch them again, decade(s) later. A technological revolution, and a consequently vastly different relationship to technology itself now frame the events and concepts of these films. The experience of watching these films feels nothing like nostalgia or remembrance of the past, but is instead strangely prophetic. When the opening lines in Picture of Light describe how "we live in a time where things do not seem to exist if they are not captured as an image," they resonate deeply still—maybe more so. What future do they predict for us now, twenty years later? How does one interpret the "intuitive style" of a film like Gambling, Gods and LSD in an age of camera phones and instant updates? I came away with a deep respect for the detail and minutiae in the craft, and the deliberate selection and masterful eye with which each moment is connected to the film. But part of the style involves leaving space for meditation in order to allow each audience member to interpret the film in their own way, which means that others may find different components of the film connect with them more strongly. The necessity for subjectivity in his work is one of the qualities that make his films so unique and engaging.
Having toured Europe and North America live mixing images and sound in theatrical installations, an exciting addition to this retrospective is a performance of one of these sonic and visual events. Often concerned with the authenticity of the captured moment and engaging the audience as an active participant, this is a boundary-pushing progression from his intuitive approach of capturing images, and a predictive foray into a new cinematic experience; one more participatory and subjective than film alone. This sort of deconstructed theatrical experience is an inspired way to capture a moment; the experience of a film without a film. It's an audacious approach, but his ability to find and expose the impossible, intangible or existential is well documented already.
It's a privilege to be able to show Peter's work here in the context of this retrospective and to pay homage to a history of fearless exploration. I hope many of you meet each other "in the images" throughout the Festival.
— Sarafina DiFelice
Programming Manager