2014 Focus On John Zaritsky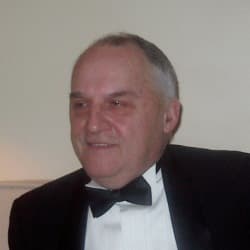 With someone who has produced the amount of work that John Zaritsky has, it's a difficult process to distill it all into one retrospective. Over the last 40 years, Zaritsky has made hundreds of hours of documentary content, which has been screened and broadcast in over 50 countries. He's won more than 40 awards, most notably an Academy Award in 1982 for his feature film Just Another Missing Kid. The long list also includes seven Geminis, a Golden Gavel Award from the American Bar Association, a Robert F. Kennedy Foundation Award and an Alfred I. Dupont Award from Columbia University's School of Journalism. Three of his films have been nominated for Emmys.
When I pose the question to John about how he would approach this task, he laughs, "as long as you put something in that isn't about death!"
I laugh at that, too. I've seen plenty of John's work that isn't about death, but I suppose it makes sense. Starting out as a journalist and moving into television documentaries, John spent 15 years at Frontline PBS where he was focused mainly on current affairs and issue-based documentaries for broadcast. While they may not all have been about death, he has a long history of "serious" (his word) work.
"Over the years I've made films because I believed in certain things strongly," he says. "I think I'm motivated by social consciences. In the past I've wanted to bring my message, or a message, that's important in the hopes that it might change things for the better, as naïve and idealistic as it sounds."
In this retrospective his Emmy-nominated film Romeo and Juliet in Sarajevo is the most obvious example of this style of work, but there are many others that could easily have been included: Broken Promises, about the Canadian government's failure to adequately support thalidomide victims and their families, or My Husband Is Going To Kill Me, about flaws in the US justice system that led to an avoidable murder of a woman at the hands of her abusive husband, are examples. It's not naïve to think that exposing these stories is important and necessary; John's work is often about providing a voice for those who need his reach.
"I'm proud of those things," he explains, "but I don't want to be seen as a one-note Charlie, even if that note is a good note." I'm glad he mentions it, as one of our goals when putting together the program was highlighting the diversity of John's work. Sometimes he's simply a storyteller, too, and an entertaining one. His film No Kidding, where he searches for the world's funniest joke, was made because, as he puts it, "Who wouldn't want to do that?" With Ski Bums, John happened to meet a guy at a party who called himself Johnny Thrash and thought, "Who is this guy and what planet did he jump off of?" He quickly found himself sharing a condo for two years while filming the doc and living as a ski bum himself. ("I spent 73 days on the slopes that first year," he says proudly. "I won Ski Bum rookie of the year!")
It's a good story, but it also speaks to an overall approach in his filmmaking that's motivated by curiosity, a sense of exploration and an openness to discovery. Regardless of where each film fits in the broad spectrum of documentary work, what I think lingers the most after seeing his films is John's unique ability to find and bring out the interesting ironies or juxtapositions in each story. Discussing the Bosnian War through a love story, as in Romeo and Juliet, or presenting a portrait of a prison against the wide open backdrop of the Colorado Rockies, as in the beautifully subtle and cinematic Wild Horse Redemption, are both good examples. This quality is maybe best seen through his film Leave Them Laughing about comedian Carla Zilbersmith and her final year with Lou Gehrig's disease. As the only film that John has ever made without a broadcaster or cultural organization attached, he was working "entirely without adult supervision." When given no boundaries and setting out to make a documentary about ALS, how many people would do it in the style of a musical comedy?
When I mention this to John, he says that's always been a goal.
"I've always been a loner. I don't want to go where the crowd has been. When I get an idea in this modern world, I run to my computer and I Google to see if anyone else has been there in any kind of major way. If it's already been covered, I'll go somewhere else."
This key trait of his was an influence on why his Academy Award-winning film Just Another Missing Kid is conspicuously absent from our program. It's an important film, but as so many of his films are about unearthing unexpected voices and the unique stories and perspectives that might otherwise be overlooked, it seemed appropriate to dig a little deeper. It seemed like a choice that John himself might make.
Before ending the conversation, I ask him how, with so much work and so many subjects and so many styles, he knows when he's found something good. What makes him pursue one story over another? He thinks about this one for a while before responding:
"I hate to give a cliché response, but in some ways it's a gut instinct. I suppose I test things out quite a bit" He pauses again before laughing and adding, "Before I go near a thing, I'll bore my wife or my friends constantly with stories or ideas to see whether people are interested and whether they grab on to it, what kind of questions they ask me about it. I think people start to run when they see me now, 'Oh no, here he comes again we have to listen.'"
I joke that, for the sake of this retrospective, I hope that's not true. And he laughs a lot.
John's career has a longevity that speaks for itself. I hope that when seeing the films in this program you'll come away with a sense, not just of his impressive and varied work, but of who he is as a person as well as a filmmaker. It's been a pleasure to get to know someone as insightful, funny and challenging, and to get these glimpses of the world the way that he sees it.
— Sarafina DiFelice
Programming Manager