2015 Focus On Carole Laganière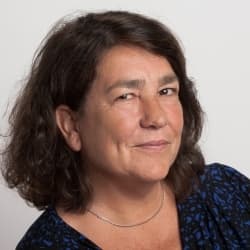 It's such a pleasure to be able to present a selection of Carole Laganière's work here at Hot Docs this year. Audiences at Hot Docs have a special love for Laganière's work. While she has screened her films across the globe with great acclaim, here in Toronto we've screened almost all of her documentary work, including her most recent film Some Farewells, which we are happy to be screening in the program this year. She's twice won our Canadian Spectrum competition, with The Fiancee of Life in 2002 and The Moon and the Violin in 2003.
To be able to revisit these films with our audience is a real joy, but to revisit Laganière's work again with any audience feels like a particularly important and special opportunity. While Laganière's work has many styles, much of it is unified by her ability to draw out and document small and meaningful moments; to find circumstances or people that most others would have missed. Discussing her work over the phone, Laganière considers whether this is something that she strives for, or if this is her goal.
I'm looking always for small moments. As a child, I developed an illness where I couldn't hear. And from that I became very concentrated on people. I became very concentrated on the movements of their lips; reading them to hear what they had to say. I became somebody who always listens. I'm always looking for silences. But… I think I'm also interested in people who have lived through hard things… I'm interested in resilience; [what people might say] are "the unremarkable" and how they transform in certain circumstances.
She uses a specific moment in her new film Some Farewells to explain:
"There is a moment were a man is feeding his wife, and it's clear that he's never had to do this sort of thing before. In a way, he becomes a sort of hero."
This is just one example of how those two qualities permeate her work, but it's easy to find more. In this retrospective, we see how Laganière interviews the often forgotten children of high risk neighbourhoods about their dreams for the future, as in East End Kids and East End Forever, or through the observations of elderly performance artists in The Moon and the Violin. Social justice is often a part of her work, but there's more to it than that. When asked about her motivation she thinks carefully to describe it:
Life is not so black and white to me, the motivations behind what we do… I don't share my own stories. I think that the stories of the people I meet are more interesting. In a way, there's a kind of egotism or selfishness to that because what you get from these people you get first of all for yourself. But I think I am trying to draw with that too, to tell people more about who I am and what I've lived. I'm looking to expose a soul. Of course, no one can expose a soul, but maybe a very small piece of it.
The ability to see the evolution of how Laganière has achieved that over the years is another obvious benefit of putting her work together. How have those small moments and those explorations changed over time?
I used to like to make interviews—it's a fantastic moment to get profound things [from them]; to go very deep with people. There is a kind of suspended moment there. But more and more I would like to approach the soul of the people without making interviews. I realize how surprising it is to put some people together just to observe what is going out of those conversations. I'm going more in that way now.
This shift is sometimes subtle, and it's not a steadfast rule that she will only approach a subject in one way or the other. But I think it marks one of the most interesting shifts in her career. Through using her gift of finding small stories and unseen moments, her career has progressed toward documenting not just the unseen but the intangible. With her 2013 film Absences (which is not being shown in this retrospective but was part of our Festival selection last year), she beautifully documents the feeling of loss and the void created by various circumstances, not just the circumstances themselves. For many, this would be an impossible task, but for Laganière it feels like the next stage of a career that has fearlessly focused on the invisible. While more grounded in one time and space than Absences, this sort of exploration is apparent in Some Farewells, also.
The subjects in the collection of Laganière's work that has been selected for this retrospective span an entire lifetime of ages and experiences, and it's a testament to her unique gifts that she has created a body of work that is at once so intricate and expansive. What she has created for her audiences so far is a profound study of the structures that shape our world and the moments that make up our humanity; it is a legacy that is artful and in many ways anthropological. By collecting our silences and our invisible moments, Laganière has managed to bring together some of the most important parts of ourselves. It's a great pleasure to be able to consider the world again through the eyes of such a gifted filmmaker who gives these moments the time that they deserve.
— Sarafina DiFelice Programming Manager