2016 Focus On Rosie Dransfeld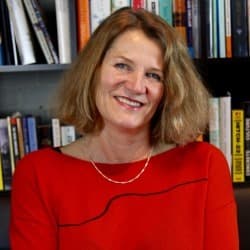 "The world is a dangerous place, not because of those who do evil, but because of those who look on and do nothing." - Albert Einstein
For the last 14 years, one of Canada's masters of cinéma vérité has given us a window into the lives of those on the social margins in Edmonton, Alberta. Her films are not always stories of likeable people. Most often, they are characters not easily deemed sympathetic: self-described sociopaths, shady pawnshop owners and traumatized street workers. By capturing their resilience in the face of adverse situations and conflicts, Rosie Dransfeld brings us into their lives on their own terms, thereby creating a body of compelling documentary cinema.
Dransfeld came to Canada from Germany in 1998, leaving behind a successful career in television journalism. Now living in Alberta, Dransfeld has integrated the skills of her former craft with a love of vérité to establish herself as an inquisitive filmmaker who brings us tender and humane stories from a city most often associated with what was once the world's biggest shopping mall.
Dransfeld uses vérité as a style, but arguably also as a position, by focusing her camera on real people in uncontrolled situations. She chooses gritty digital over high-pixel count HD. She opts for handheld or shoulder-mounted camerawork instead of tripods and sliders. Her films feature no voice-overs in favour of letting the characters guide the narrative. The sum effect is an immediacy and a feeling that she—and by extension, the audience—is there walking the sidewalks, crossing the parks and driving the streets with her characters.
Nowhere is that more apparent than in The Dogwalker (2007), a film about a man most of us would pass on the street and not think twice about. In Dransfeld's hands, the story of humble Michael—who suffered a brain injury at age six, after running from bullies into the headlights of an oncoming car—and his love of dogs and cats becomes captivating observational cinema.
Dransfeld has a way of letting characters show us deeper layers and more meaningful sides of themselves, like foul-mouthed pawnshop owner David Wolfson in Broke (2009). Critically acclaimed and a Hot Docs favourite, Broke features a Dransfeld trademark: a fly-on-the-wall approach to a character you don't really know what to do with at first. The more time you spend in David's pawnshop, the more a cantankerous, erratic kindness emerges from behind the barbed insults and tough deals he dishes out to down-and-out customers—and to Chris Hoard, his unpaid First Nations assistant. The film was the recipient of the prestigious Donald Brittain Award for Best Social/Political Documentary.
David Wolfson makes a short re-appearance in Anti-Social Limited (2014), but this time the film focuses on his assistant Hoard, following the ex-con for three years as he tries to clean up his life and start an all-native construction company. Matching the success of Broke, Anti-Social Limited was nominated for this year's Donald Brittain Award for Best Social/Political Documentary. Both films draw stark pictures of inner-city poverty, racism and the treatment of First Nations in Canada.
Moving away from vérité, Dransfeld's films Mothers of Courage (2003) and Bosses (2006) are a true testament to her versatility. One is a portrait of rural mothers fighting for the rights of their disabled children, and the other a hilarious investigation into the habits and traits of good and bad bosses. While our selection focuses on her powerful vérité cinema, we're delighted to show the breadth of Dransfeld's work by including her first Canadian film, Beaverman (2002), the quirky story of a Scottish immigrant's obsession with Canada's national symbol.
Taken from the opening of her film Who Cares (2012), about Edmonton's street prostitutes, Einstein's words resonate strongly throughout all of Dransfeld's films. She uses the power of cinema to share compelling stories of social outcasts. This showcase celebrates a mid-career Canadian filmmaker, and judging by the lineup thus far, we can expect many more extraordinary and accomplished films from one of Canada's most singular documentary filmmakers.
— Aisha Jamal Associate Canadian Programmer