2017 Focus on Maya Gallus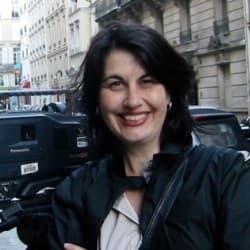 "One is not born a woman, one becomes one." – Simone de Beauvoir
"… the overriding theme in most of my own personally driven films has been about being a woman and being an artist. I'm interested in figuring out gender within that identity." – Maya Gallus, from an interview with Barrie Cohen in POV Magazine in spring 2013
Hot Docs is thrilled to honour Maya Gallus with the 2017 Focus On retrospective. Over the past 24 years, Gallus has created a body of work about women's lives and aspirations in love, sex, work and sports. Through these stories, her films engage in greater social debates and raise critical questions about how gender, sex and sexual orientation operate, how they change and resist change over time, and the nuanced distinctions between sex and gender.
In the late '80s, Gallus was writing lifestyle features for Toronto newspapers and working as a researcher for television when she decided to try her hand at making a film. Her background in journalism turned out to be an excellent asset for her move into documentary. In 1991, her debut film, Elizabeth Smart: On the Side of the Angels, premiered at TIFF, had a successful festival run and won numerous awards.
Since then, Gallus has written, directed and produced a body of personally driven documentaries that have won awards, been screened theatrically and at festivals around the world, and broadcast in Canada and internationally. She has also written and directed numerous television documentaries and episodic series for Canadian broadcasters.
In 2003, she and Justine Pimlott—her partner in documentary and in life—founded Red Queen Productions to produce Punch Like a Girl, a six-part doc series on women's amateur boxing in Canada. They have often alternated writing and producing work on each other's films, and occasionally co-direct. Red Queen continues to produce docs for the big and small screen, with a focus on women, marginalized communities and LGBTQ lives.
The six films screening in this program show the range and depth of Gallus's passionate curiosity about the lives of women, the nature and performance of femininity, and how women perform gender, embracing or rebelling against the gender expectations and restrictions they face.
Respect for the people who appear in her films is critical to her documentary practice, as is evident from the generosity, vulnerability and energy her participants give to the screen. Based on that respect, she adopts the form and structure that serves each subject and wields them with the flair of the consummate documentary storyteller. She mixes vérité and participatory cinema to convey the multiple aspects of women's lives, pushes into dramatic hybrid territory by integrating actors and the techniques of fiction filmmaking to create lush historical biographies, and constructs an elegant essay to take on the power of women creating erotica.
When censorship versus pornography was hotly debated in feminist and LGBTQ communities as part of the culture wars of the 1980s, Gallus turned her camera on 10 women engaged with the "pleasures and dangers" of creating erotica and pornography from a female point of view. Erotica: A Journey Into Female Sexuality is frank, explicit and unafraid to take up the dark side of sexual fantasies. This 20th anniversary screening provides a fascinating glimpse into the recent history of women's attempts to own their own sexual representations.
Girl Inside walks a careful line between exploitation and the need to convey the emotions and experiences of Madison, a young man transitioning to her female self. Shot over three years, it complicates the notion that femininity is a fixed identity. While the film's central story is Madison's journey, it also sheds light on the transitions that family and friends must go through. Shot in 2004 before the current visibility of trans lives, the film went on to win the Best Direction in Documentary Gemini in 2007.
Derby Crazy Love takes us into the lives of women who embrace aggressive sport and jam past the rules of femininity and physical aggression. Dish: Women, Waitressing and the Art of Service enters the worlds of women at work in the restaurant and hospitality industry, discovering how sexism plays out in eateries from neighbourhood diners to high-end dining establishments.
Lovers of Canadian literature and documentary biographies will relish the double-header screening of Elizabeth Smart: On the Side of the Angels and The Mystery of Mazo de la Roche, films created more than 20 years apart. With Elizabeth Smart in 1991, Gallus shot in 16mm and cast the brilliant Jackie Burroughs for voice-over readings of Smart's work. Writer Michael Ondaatje serves as a third-person narrator, and the dramatic readings are integrated with interviews and archival material. In 2012, The Mystery of Mazo de la Roche was shot digitally. Severn Thompson stars as de la Roche in a series of speculative fiction vignettes that imagine the relationship between Mazo and Caroline, her lifelong companion, and these are intercut with interviews and archival scenes.
What becomes evident from watching Gallus's body of work is an emerging vocabulary that distinguishes between gender and sex, between the political and social requirements necessary for equality, and between fixed identities and the fluidity of our sexual and psychological selves. Her films embody Jill Soloway's recent concept of the female gaze: They're created through multiple lenses of technique and feeling, of passion and complexity, of the relationships between women's bodies and minds and the cultural conflicts within which we live.
This vocabulary will undoubtedly continue to expand. Gallus is currently at work on The Heat, about women chefs reforming male-dominated kitchens, and A Female Gaze, a theatrical feature that will explore the concept of "a woman's gaze" as revealed through the work of internationally renowned women filmmakers. We welcome you to the theatres to see these exceptional films, and to discuss them with the director after the screenings.
— Lynne Fernie
Senior Canadian Programmer