News
Hot Docs Forum and Deal Maker Wrap With Over $100,00 in Cash Prizes Awarded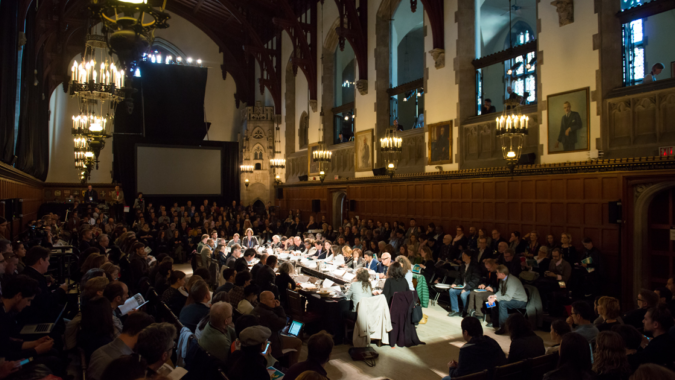 The Hot Docs Forum, Hot Docs' key international co-financing market event, and Hot Docs Deal Maker, Hot Docs' curated one-on-one pitch meeting program, wrapped after two days of brisk pitching, networking and deal-making. At the Hot Docs Forum, 20 projects—with 10 female directors and 25 female producers attached—representing 20 countries were presented to a room of over 475 key funders, decision makers, filmmakers and observers, while at Hot Docs Deal Maker, 60 projects were pitched to 65 buyers at approximately 700 meetings.
Over $100,000 in cash prizes were awarded to projects at this year's Hot Docs Forum.
The inaugural first look program's top prize of $75,000 CAD was awarded to 93QUEEN (D: Paula Eiselt; Malka Films LLC, USA), which follows a group of tenacious Hasidic women who are shattering the glass ceiling in their Hasidic Brooklyn neighbourhood to create the first all-female volunteer ambulance corps in NYC. The program's second prize of $25,000 CAD went to The Feeling of Being Watched (D: Assia Boundaoui; Multitude Films, LLC, Watched Film, LLC, Naked Edge Films Inc., USA), when a filmmaker investigates rumours of surveillance in her Arab-American neighbourhood in Chicago, she uncovers one of the largest FBI terrorism probes conducted before 9/11 and reveals its enduring impact on the community.
The Corus-Hot Docs Forum Pitch Prize was awarded to Blue Box (Norma Productions Ltd., Israel; Intuitive Pictures, Canada; Breakthrough Films, Canada), the untold story of the massive land takeover that led to the creation of Israel told through the diaries of the man who orchestrated it. Disbursed from the Corus-Hot Docs Funds, the $10,000 CAD cash prize is awarded to the best Canadian pitch at the Forum as voted on by attending international buyers. Corus' Andrew Johnson and Hot Docs' Dorota Lech presented the award to pitch team members Michal Weits (director) and Assaf Amir (producer). The project is co-produced by Ira Levy and Ina Fichman.
The Cuban Hat Award, which offers "real cash, no strings attached" support for powerful and unique projects, was presented to 306 Hollywood (Multitude Films LLC, USA; Watched Film LLC, USA; Naked Edge Films Inc., USA), directed by Elan and Jonathan Bogarín and pitched by Judit Stalter, and Elan and Jonathan Bogarín. Established in 2009 in an impromptu display of collegial support, the Cuban Hat Award is decided from ballots collected from Hot Docs Forum Observers, and the cash prize is raised by passing the hat. This year's collection brought in $1238.35 CAD, $434.71 USD, €111, 100 Afghani AFN, 20 Chinese Yuan, and 10 Argentinian pesos, three business cards and two TTC tokens. Hot Docs will match the total Canadian and American dollar amount of $1,673.06. The prize also includes a Hot Docs All-Access pass for 2018, one free Observer Pass for IDFA Forum 2017 in Amsterdam, a two-hour co-producer/executive producer consultation plus homemade gourmet meal in Montreal; one rough cut session (plus beer) with EYESTEEL FILM; two free passes for DOX Leipzig; two weeks of rough cut editing at Idioms Film, Palestine; and five days of colour correction and online editing for Tortuga Films, Quebec. The best Decision Maker from the Cuban Hat Award is Marie Nelson, VP News and Public Affairs, PBS. The award was given out by Jesse Freeston of Makila Films.