News
Hot Docs 2017 Short Film Pitch Winner Announced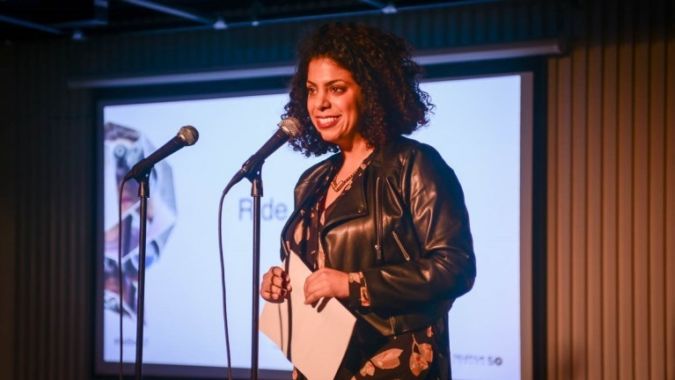 On Tuesday, May 2, Hot Docs and BravoFACT presented the Hot Docs Short Film Pitch last night, giving six Canadian filmmaking teams the opportunity to pitch their short documentary projects to a live audience and a panel of judges to win cash prizes totaling $75,000, courtesy of BravoFACT. Hosted by Sarah Lash of Conde Nast Entertainment in Toronto, prizes were presented to winners by Rachel Feldbloom-Wood (Grants Administrator, BravoFACT).
First Place Prize of $30,000: RIDE FOR PROMISE
Pitched by Sherien Barsoum (Toronto, ON)
Ride for Promise, where a young black man overcomes personal, social and familial struggles to cross Canada in a journey inspiring new narratives on race, privilege and poverty.
Second Place Prize of $25,000: BOKO HARAM: BETWEEN GOOD AND EVIL
Pitched by Stuart Coxe, Laurie Few, Colette Vosberg (Toronto, ON)
Boko Haram: Between Good and Evil, in which Nigerian school girls who are survivors of the Boko Haram kidnapping come to terms with their experiences and rebuilding their lives in these stories of empowerment and equality, but also rage, fear, acceptance and inspiration.
Third Place Prize of $20,000: 36 HITCHIN ROAD
Pitched by Lorna Kirk (West Jeddore, NS)
36 Hitchin Road is a moving story of a dying elderly woman and her unlikely caregiver brought to life through animated charcoal drawings and footage spanning a decade.
Eligible projects were considered by the Hot Docs Short Film Pitch jury, which included: Bob Culbert (Owner, Culbert Productions and Consulting), Craig Jackson (Filmmaker), and Olena Decock (Industry Conference Programmer, Hot Docs).